Muvizu Easter Discounts
Posted 2020-04-10 by Doc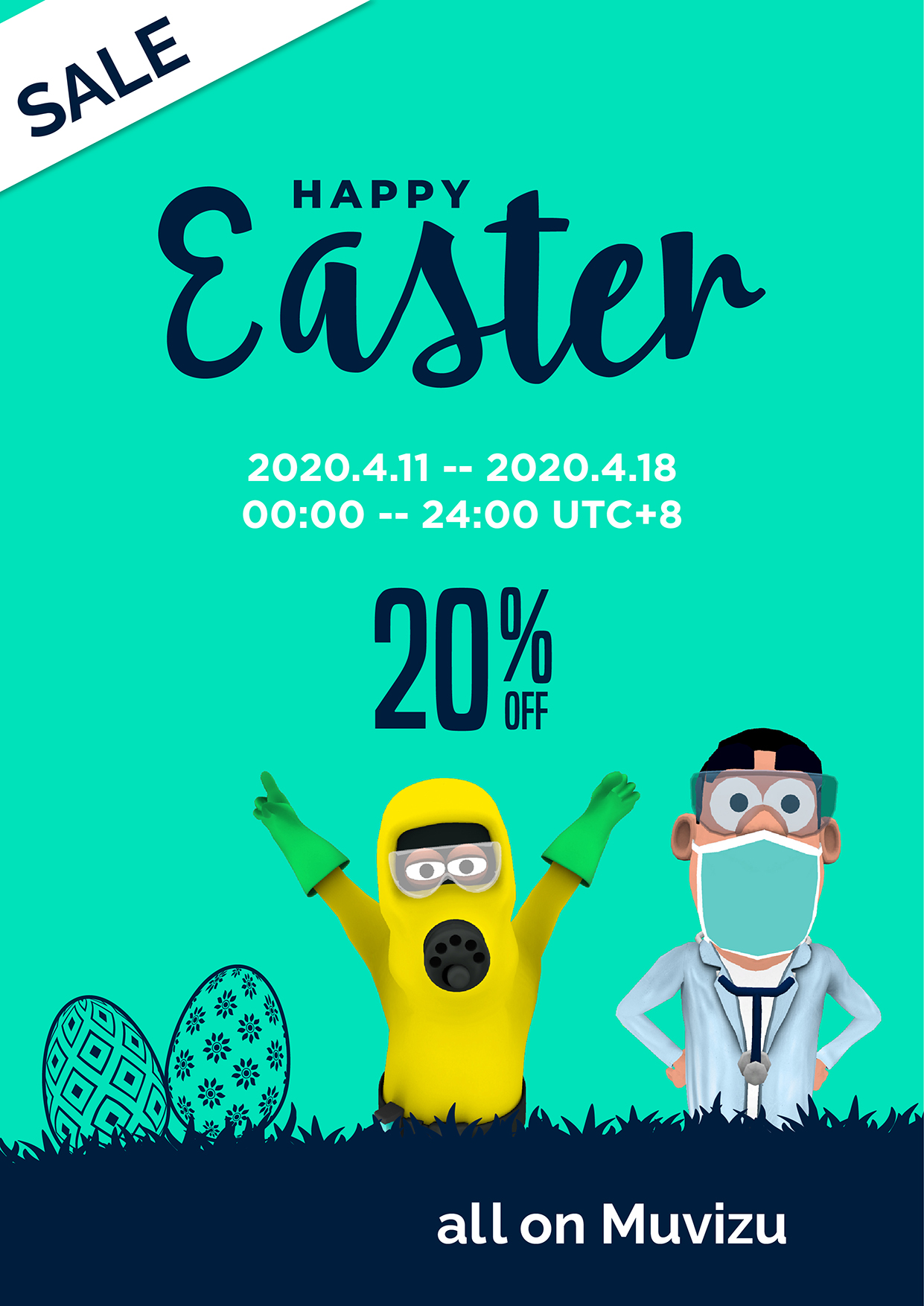 There is a 20% discount on Muvizu licences until the 18th April 2020
---
Muvizu Support is Back
Posted 2019-11-09 by Doc
The Muvizu_Admin account on the Muvizu forum has recently shown some activity.

They are publicly offering support to help users activate their Muvizu licences.

In addition to that, they seem to be taking suggestions and updating sections of the website which have been broken since Digimania went into administration.

http://www.muvizu.com/forum/topic7553-announcement.aspx?p=f#post40615
---
The Danish Connection
All of us long-standing users on here bought our licences from Digimania a long time ago and we don't really have many dealings with Meshmellow, the company in China who now own Muvizu. We have to explain to people that we cannot help if they have problems purchasing or upgrading licences.

However one our members from Denmark, Nikolaj Houg, has managed to negotiate with Meshmellow and has set up as a re-seller of licenses for Muvizu. New users from Europe and USA might feel happier buying from Denmark rather than China.

He is a very genuine guy, speaks good English and replies promptly to messages. He can be contacted through Zuchat, or his website https://www.muvizu.dk/ . If you are already in the middle of purchasing directly from Meshmellow then it is best is you finish that deal with them, there is usually a delay.
Nik's main interest is in developing Muvizu in schools in Denmark. He is keen to contact teachers in other countries interested in doing the same.
---
Beware the Eye of Amun-Ra Film Released
Posted 2018-10-08 by Doc

UKBerty, a long-standing Muvizu Mogul, has released their highly anticipated feature-length Muvizu film on Amazon Prime.

UK version - https://tinyurl.com/y9tgoar8
US version - https://tinyurl.com/y85pfzyj

It's free to watch if you already have an Amazon Prime subscription.

Enjoy!
---
Muvizu website downloads back online
Posted 2018-09-05 by Doc
Meshmellow have fixed the download links for Muvizu and its asset packs on the Muvizu website.
The new links are the same Google Drive links which were previously emailed to users.
http://www.muvizu.com/soft/
---
Meshmellow putting Muvizu into schools in China
Posted 2018-08-26 by Doc
Meshmellow appear to be focusing their resources on promoting Muvizu to schools.
On the original Facebook post, there are some new characters which are part of the partial re-branding of Muvizu in China. It's currently unclear whether we will see these characters in a future release of Muvizu.

Source: https://www.facebook.com/Muvizu3D/posts/10155338607826065
---
Muvizu limited time discount
Posted 2018-06-19 by Doc
Meshmellow are offering discounted prices for Muvizu:Play+ and Muvizu:Pro until the end of July.
Pro:
Original price: 54.99 GBP
Discounted price: 34.99 GBP (46.60USD/39.80EUR)
Play+:
Original price: 34.99 GBP
Discounted price: 14.99 GBP (20.10USD/17.05EUR)

To buy, you need to follow their slightly unusual process of sending them money via PayPal: zhong@luxology.cn
Then emailing them a screenshot of the payment confirmation to snow.tu@meshmellow.cn

We have had many users buy this way, with no failures yet - so it does work despite being unusual.
---
Activation servers back online
Posted 2018-06-05 by Doc
If you have had error W3 when trying to activate Muvizu before, try again now. Meshmellow have fixed the licencing server. :)
---
W3 fix coming to a Muvizu near you
Posted 2018-05-31 by Doc
Thanks to one of our diligent forum members, StarHopper, we have some long overdue news regarding the current Muvizu licencing situation.
The licencing system built into Muvizu uses a system called x-formation. Meshmellow didn't renew their licence for this system which has been causing error W3 for any users trying to activate.
Some users have been given the temporary solution of Meshmellow's own licencing system which is on top of Muvizu version January 2017. Meshmellow have acknowledged the instability of this solution.
However, they have recently been in touch with Robert, a former Muvizu dev, who will be helping to recover the old licencing system. (Everything should be resolved by the end of June at the latest according to vincycacau on the Muvizu forum.)

Source: http://www.anizu.uk/forum/viewtopic.php?f=20&t=548
http://www.muvizu.com/forum/topic7439-erro-w3-para-ativacao-e-detalhes-de-solucao-.aspx?p=f#post40369
---
News from Meshmellow
Posted 2018-04-04 by Doc
Meshmellow have released an update on the Muvizu blog. In summary:

1. The activation server is down for maintenance, and therefore users have been getting error W3. Meshmellow say they will have it fixed in the next few days.

2. There are several issues with the Muvizu website regarding automated emailing and payment processing. They are asking for former Digimania employees to help them understand what's wrong and how to fix it.

3. Apparently some users' licences are invalid (Error W2?). If you email Meshmellow with your username and licence key, they will restore your licence.

4. They are selling Muvizu:Play+ and Muvizu:Pro to users, with bulk discounts if you are a distributor. You can find out more about this on our activation FAQ: http://www.anizu.uk/muvizuactivation

Read the full blog post here: http://www.muvizu.com/Blog/206/Problems-to-be-solved
---
Slow progress
Posted 2018-02-27 by Doc
Not much has happened with Muvizu over the last couple of months. The Muvizu website has remained unreliable with most of the assets still yet to be re-uploaded, and little to no news from Meshmellow.

As always, you can use Anizu to share your videos, assets, and tips&tricks relating to Muvizu.

This website was initially meant to be a temporary solution for the transition of Muvizu being sold to the new company, but we are going to keep the site online for the foreseeable future to ensure our users can keep getting the most out of Muvizu.

If you feel that there are any features missing from this site, or you find any issues, please let us know: http://www.anizu.uk/forum/viewforum.php?f=15
:)
---
Muvizu licencing working again?
Posted 2017-12-31 by Doc
Some users have said that the old licencing system is now up and running again.
If you've been waiting for an opportunity to use your old licence key, then try it now. :)

(And sorry if you have bought a new licence and are only now hearing the news)

Error W2 means you have used all your attempts, so you will need to contact Meshmellow if you would like to be able to use your key. snow.tu@meshmellow.cn
---
Looking for a Muvizu licence?
Posted 2017-11-20 by Doc

Have you been waiting for the chance to buy a Muvizu:Play+ licence? I recently contacted Meshmellow, and they say they are trying to set up the site and licencing system but don't expect the process to be quick. They certainly haven't forgotten about Muvizu after spending so much money for the rights to own it. For now, they are apparently making do by selling Muvizu:Pro (which is Muvizu:Play+ with all the additional content packs) on a case by case basis for 79 euros. To obtain this, you'll need to email snow.tu@meshmellow.cn
The version of Muvizu:Pro that they are distributing is the January 2017 release, and apparently has a few bugs on Windows 10. It may be possible to port your Muvizu:Pro licence to the newest version (March 2017) - please contact me if you're interested in trying this. http://www.anizu.uk/forum/ucp.php?i=pm&mode=compose&u=48
---
Muvizu now owned by Meshmellow
Posted 2017-09-26 by Doc
Muvizu's new owners have released the following statement on the Muvizu blog:

We are delighted to announce that Meshmellow has acquired all the software of Digimania Ltd., including trademarks, patents and copyrights. Meshmellow is a graphics software research and development company registered in Hong Kong, which is committed to creating a community and asset sharing platform for global content creators. The acquisition of Digimania's assets makes Meshmellow a pioneer in the animation field. Future versions of Muvizu will be developed, and Meshmellow will continue to provide service, and support, to its users.

This is very encouraging and it sounds like they plan to develop Muvizu further if they can.
You can find their website here: http://www.meshmellow.cn/
They already have Minimaker, 3D printing software created by Digimania, advertised on their site.
---
Muvizu website back online(ish)
Posted 2017-09-18 by Doc
The Muvizu website appears to slowly be coming back online.
http://www.muvizu.com/
You may still get the blue splash page for now, but it is getting there.
The forum and user accounts are intact but it's a bit temperamental at the moment.
Unfortunately, the licencing server is not yet online and you will get error W4 if you try to activate a copy of Muvizu. You can't download Muvizu from the site yet so best to stick with our downloads page for now. http://www.anizu.uk/downloads
Overall it seems like good news, and we look forward to seeing what happens next.
---
Muvizu's new owners are now in command
Posted 2017-09-10 by Doc
This picture is a screenshot of muvizu.com. It's a placeholder page of the new web-hosts of the Muvizu site.
It marks the arrival of Muvizu's new owners (presumably a Chinese company) and shows that the administrators who shut down Digimania are no longer in charge.
According to Neil, a former Muvizu developer, the new owners plan to use the existing licencing system and hope to restore all existing Muvizu:Play+ licences. (Which I'm sure many of you will be happy to hear)
They appear to be in the process of setting up the new website, slowly recovering the user accounts database (and perhaps the forum?). It's possible that they'll be trading before the end of the year, although I wouldn't expect any new features or content packs in this time.
I wish the new owners luck with their newly acquired software.
You can read more here: http://www.anizu.uk/forum/viewtopic.php?f=8&p=550
---
Keeping your Muvizu licence
Posted 2017-08-28 by Doc
Animall, one of our forum members, has made this handy video which outlines the basics of what you need to do to keep your licence, just in case your computer breaks down in the future.
I hope everyone can follow these instructions because otherwise it will be very difficult to reactivate Muvizu later, should your computer fail.
It might also be worth making a backup of the file called Persistant.log in C:\Program Files\Muvizu Play\MuvizuGame\Logs

Good luck! :)
---
The future of Muvizu
Posted 2017-08-22 by Doc
We have had news from an anonymous source that a new company is taking on the rights to Muvizu.
http://www.anizu.uk/forum/viewtopic.php?f=9&t=94
Let's hope for more news in the coming months!
---
Winners of the 1 minute or less competition
Posted 2017-08-16 by Doc
Congratulations to Ikes and roroduck for winning the 1 minute or less competition!

If you're still feeling competitive, why not enter this year's Passion Competition: http://www.harb40passioncompetition.com/phpbb3/viewtopic.php?f=18&t=117

Ikes winning entry: https://youtu.be/oMfKnBwQcZU
roroduck winning entry: https://youtu.be/K9SlVuD3bvM
---
Vote for your favourite entry
Posted 2017-08-14 by Doc
Vote for your favourite entry to the 1 minute or less competition.
http://www.anizu.uk/forum/viewtopic.php?f=8&t=86
Special thanks to maurice8th, wdeprospo, Ikes, and roroduck for submitting their entries. Good luck everyone!
---
Not sure what to make with Muvizu?
Posted 2017-08-13 by Doc
Why not enter an animation contest to try out your skills:

1 Minute Or Less Competition (apply by 13th August 2017)
http://www.anizu.uk/forum/viewtopic.php?f=8&t=61

Passion Competition 2017 (apply by 28th October 2017)
http://www.harb40passioncompetition.com/phpbb3/viewtopic.php?f=18&t=117
---